We come now to the part where Kit goes "OH NOES!!! Lookit all the stuff I have to freakin' BLOG already!!!" I mean, there are FO's, SP6 love, WIP's, SLC S'n'B experiences, and stories of wonderful yarn stores!
Okay, calm down, Kit. Let's take this a step at a time. *big breath, deep breath, lets it out before she pops*
Finished Objects First
I'm going to shamelessly cut and paste from my LiveJournal. If you read this already, hush your noise and let me get on with it already!
Rogue
This is quite form fitting. Yus, I'm a goddess of bounty, thank you for noticing. And I only have one arm. Terrible accident involving derring do, pirates AND ninjas, passionate love making, and a badger named Earl. The sweater took me since May and the crazy thing is, I practically have two full skeins of the Cascade 220 left over. Talk about miscalculating, but maybe it's the reason why the sleeves are a tad bit tight. Ah well.
Speaking of sleeves, check out that celtic knot action! That's my hip in the background, the knotwork goes all the way up to where the sleeve connects. Awesome, no?
Oooooh...it's the hood! I'm a clumsy seamer, I know. Next time I make the Rogue, it will have pockets, no cardiganizing, and a better looking hood. Still, yeah, I had fun with this one.
Cut Your Teeth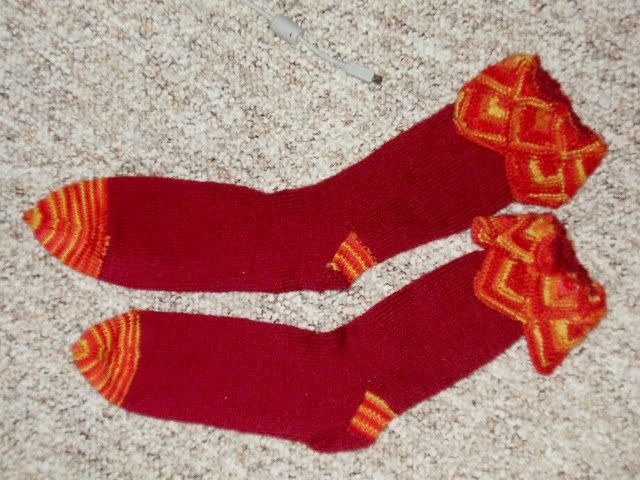 These are those infamous socks. The ones that have guided me to lovely men. Socks that have been admired by the infamous and semi-famous and just ordinary citizens. Socks that were knitted with love. Socks...that are apparently two different lengths. *sigh* Sorry, mum.