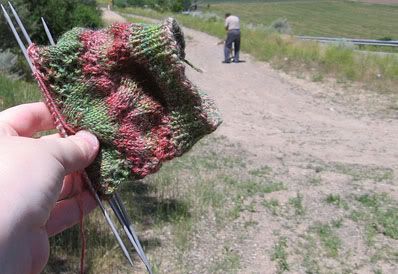 After about a week of brewing both in the back of my head and in its Bath & Bodyworks bag, I decided to continue on with the pattern for Trekking. So yesterday I decided to take her with me to the Spanish Fork canals where my parents like to take our dog, Daisy, for her walk. And swim. The dog is part otter, I'm certain of it. She loves to splash after rocks tossed into the canal, whining for the next one.
This is one of my dad's old haunts and every time we come out to the canal, he regales us of times when he would crawl around with his buddies. In the picture on the right, he's talking about how he and his friend climbed up the trail to the rocks and to the sandy caves and so on. It makes me wish I could do the same but at the same time, I am a little worried about the effects on gravity on myself. Hanging perilously off rocks just for a pretty sight just doesn't seem like fun to me.
Anyways, it's fun to walk along the canal, but I really think that the dogs have the most fun.