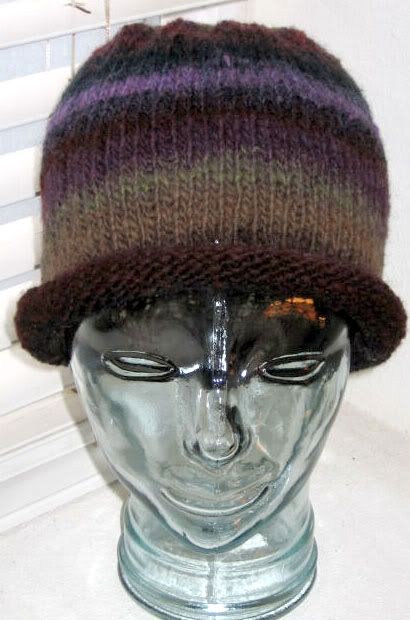 Yarn:
1.2 skeins of Noro Kureyon: Color No. 148, Lot No. A.
Needles:
US #9
Pattern:
Roll Brim Hat
Date Started:
December 14, 2005
Date Completed:
January 23, 2006
Notes and Comments:
I had a tough time with just making the hat. It started out too large. So I put it aside for other things. Then I ripped it out, started with fewer stitches, but was worried about using up more than the full skein. I decided that it was ridiculous to worry about that, after all, I had another full skein of the stuff (
always buy a little more than you think you need, you can always use the leftovers later and you won't have to worry about discontinuation or unmatched lots
). So I just knit on it while I studied my textbooks, got it long enough to fit comfortably over my ears and THEN decreased and bound off. Fits like a dream. And it's envied by all, because when I left the chapel, I went to the library to chat with my friends in there (instead of going to Sunday School, I'm a heathen dog). And just before I left, a guy came in to turn in some lost and found and there was the hat! He said he would come back for it if no one claimed it, which made me feel rather pleased. Nice hat.